Penny Loo proclaimed HCES "Student Engineer of the Year"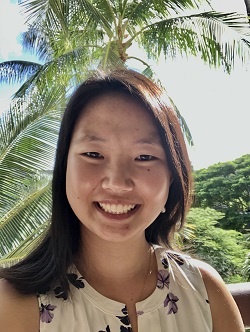 The 2022 Hawai'i Council of Engineering Societies (HCES) has selected Ms. Penny Loo as their Student Engineer of the Year!
This University of Hawai'i alumna graduated with her BS in Mechanical Engineering and a cumulative GPA of 3.98, this past Fall 2021 semester. She has recently accepted a position and currently working at the Pearl Harbor Naval Shipyard (PHNSY) & IMF in the mechanical and fluid engineering division.
Penny was the past President of Pi Tau Sigma (for three semesters) and has also served as the Vice-President, Treasurer, and a representative of the Engineers' Council of the University of Hawai'i (ECUH). She is a member of the Golden Key, ASHRAE, ASME, SWE, and NSCS (National Society of Collegiate Scholars). She is also an extremely proud graduate of 'Aiea High, 'Aiea Intermediate, and Pearl Ridge Elementary Schools.
Penny stated that her passion for science and mathematics did NOT occur until well into high school where her interests were with the math & science clubs and wood working, along with playing and competing on the tennis team. Maybe her quick mathematic (geometry) skills played a role in leading her team to the State Championships. With all her interests, she still graduated as the valedictorian and 'Aiea High School's Most Outstanding Senior. She was also the Outstanding Graduating Senior for Mechanical Engineering in Fall 2021!
Even with all the academic, sports, and society accolades, Penny is humble and recognizes the importance of 'giving back.' She has consistently and continuously been involved with tutoring through her involvement with student chapters of the professional and honor societies and working as a grader for fundamental engineering courses. She is always excited to discuss her involvement in research:
With the Diamond Bakery Manufacturing Innovations in enhancing the automation process lines to reduce product and material waste;
As a microfluid research assistant at UH to determine surface tension of various concentrations of surfactants and analyzing the interaction between different surfactants to view the dynamical effects under the UHM Undergraduate Research Opportunities Program; and
As a Coalition and Tactical Awareness intern at the Naval Research Laboratory (NRL) in Washington DC and operated, programmed, and collected data from the ground station and antenna while ruggedizing the ground station for deployment. Penny was most satisfied with her contribution to the US Marine Corps during her internship at NRL; thus, contributing to her employment decision as PHNSY & IMF.
This humble, dedicated, disciplined, patriotic, and now mechanical engineer, is just the type of graduate we need to promote and inspire engineering to the youth of Hawai'i.