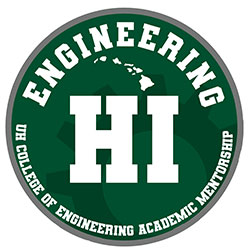 In spring of 2021, we launched EngineeringHI, an academic mentorship program connecting our engineering undergraduate mentors with students at James B. Castle High School in Kaneohe to provide STEM support and 1:1 peer coaching. We hope to expand this pilot program, made possible by a generous grant from the Harold KL Castle Foundation, to make it a permanent fixture in our offerings and expand its reach to more students.
Are you a student or educator at Castle High school interested in learning more or connecting with a mentor?
Email us at ehiteam@hawaii.edu. You may also reach out to our on-campus liaison at CHS, Ryan Saito, at saitor@knights.k12.hi.us.
​
Information for Students at Castle High School
Please have your parent or guardian fill out the following short pre-registration form so you can participate in our drop-in sessions and other fun activities: https://www.thepaf.org/application/ (under Lokahi 21st Program, click "Apply for Fall Now").
Information for Teachers at Castle High School
In the Media
How one Hawaii foundation is helping build a local tutor pipeline for schools (Civil Beat)
UH engineering students partner with Castle High School (Midweek)
UH Mānoa engineering students to tutor, mentor Castle HS students (UH News)