ALOHAnet 50th Anniversary Mini-Symposium
June 16, 2021 @ 8:00 am

-

1:00 pm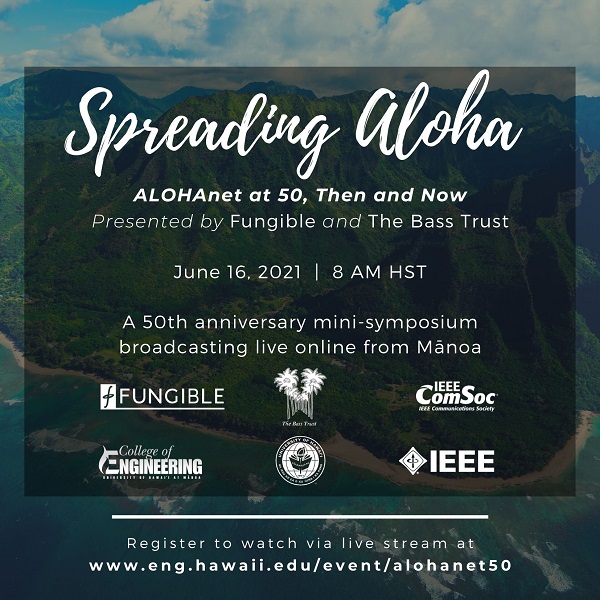 Register
ALOHAnet, the pioneering computer networking system developed at the University of Hawaiʻi at Mānoa's College of Engineering is turning 50 this year, and the College is celebrating this anniversary with a 50th Anniversary Mini-Symposium to be broadcast live from Mānoa on June 16. The virtual event is free and open to the public, and runs from 8:00 am to 1:00 pm HST, with an agenda packed full of guest speakers, video presentations, and panel discussions highlighting the history of the technology, its impact on academia, and its impact on industry.
ALOHAnet was developed under the leadership of the late founder Dr. Norman Abramson, who passed away in December of 2020, as well as Dr. Franklin Kuo and a team of faculty and students. All wireless communications today – including mobile, satellite, cellular, and WiFi – utilize the ALOHA protocol to establish an initial link. In October of 2020, ALOHAnet was inducted as the third IEEE Milestone in the state of Hawai'i.
Mahalo to our generous sponsors for making this symposium possible. Net proceeds generated from this event will fund a future scholarship in honor of ALOHAnet and its founder, the late Dr. Norm Abramson at the University of Hawai'i.
AGENDA
Introductory Remarks (8am)
Brennon Morioka (Dean, UH College of Engineering)
David Lassner (President, University of Hawai'i)
David Ige (Governor, State of Hawai'i)
The meaning of Aloha (8:15am)
Pono Shim (President and CEO, Oahu Economic Development Board)
Keynote Presentations (8:30am)
Presentation: Celebrating Norman Abramson with an introduction by Joan Abramson
Frank Kuo (ALOHAnet co-creator)
Vint Cerf (Google) & Bob Kahn (Corporation for National Research Initiatives)
Panel: Memories of Creating ALOHAnet (9:30am)
Tony Kuh (Professor, UH College of Engineering)
Alan Okinaka (ALOHAnet technical staff)
Chris Harrison (ALOHAnet technical staff)
Dennis Streveler (ALOHAnet technical staff)
Panel: ALOHAnet's Impact on Academia (10:30am)
Moderator: Tony Ephremides (Professor, University of Maryland College Park)
Robert Gallager (Professor, Massachusetts Institute of Technology)
Len Kleinrock (Professor, University of California Los Angeles)
Bruce Hajek (Professor, University of Illinois at Urbana-Champaign)
Panel: ALOHAnet's Impact on Industry (11:15am)
Moderator: Monisha Ghosh (Professor, University of Chicago)
Bob Metcalfe (Professor of Innovation, University of Texas)
Charlie Bass (Chairman, Socket Mobile, Inc.)
Ram Chandran (Vice President, Anacom Inc.)
Closing Session (12:15pm)
IEEE ComSoc President Vincent Chan: ALOHAnet in Modern Times
Dean Morioka: scholarship announcement; mahalo message

SPEAKERS INCLUDE…
Register
Learn more about ALOHAnet by visiting our ALOHAnet historical page.